Expressive Art and Healing 

Published by Home Care Services Santa Clarita
A Conversation With Aazam Irilian About heal the heART
Art was always a part of her life, she was the girl that was the decorator, she has a passion for art with a masters in education.
She does paining, sculpture, with fabric, knit, sew and more.
Heal the Heart – uses the creative process as a tool for healing, during the courses that she offers she uses guided visualization, reflective writing, expressive painting, and conversation to work through inner selves, clearing their minds, healing their past pain and planning for their future.
Aazam began this business as a process by using art to help herself heal working through issues in her own life. She used what she learned, to help women who need healing. Using her experiences to help women is very near and dear to her heart. She wants to empower women using the creative process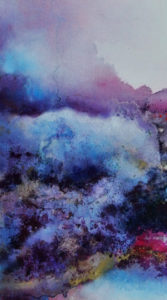 to transform themselves. She volunteers and has her advocacy certificate through the domestic violence center. She helps women who have survived it and succeeded to mentor those who are still going through it. Aazam, she has modified one of her 6 week courses to help women to build their confidence and give them role models.
Aazam is also the Art for Alzheimer's facilitator for the Home Care Services Resource Center making great strides with some of our support group participants.
Aazam is a certificate holder in social emotional art for healing through the UCLA integrative medicine social emotional healing, and also through the certification therapeutic imagery Hypnotherapy Motivation Institute.
Imagery is guided visualization – there is a focus – the course that is coming up is about managing stress for instance. So Aazam will give the participants the tools to help them do this on their own outside.
heal the heART courses and workshops, incorporate, visualization, reflective writing, visual arts, are all modality to help internalize and work through their own issues, or help them even relax and learn how to de-stress.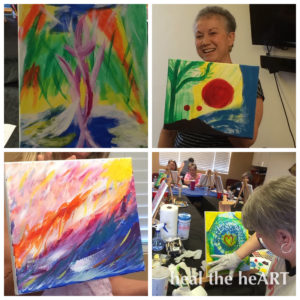 Learn How To Manage Stress
Aazam's next Heal the heart course "Learn how to managing stress and reduce anxiety" starts January 12th. The course includes 6 workshops, two hours each and meets on following dates.
Meeting Dates: January 12 & 26–February 9 & 23–March 9 & 23/2017
Time: 9:00-11:00 am
Location:  SCV Home Care Services, 23340 Cinema Dr #5, Santa Clarita, CA 91355
Find out more and sign up at healtheheart.com or contact Aazam at 661-644-3465.
Aazam is one of the Empowering Heart artists for 2016. Look for Aazam as one of the rising stars in Santa Clarita.